Short summery from our celebration
Details

Created on Monday, 19 August 2013 09:14
Written by Strombanni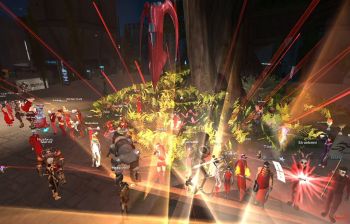 Let me start by saying... what a fantastic celebration ! It started with our awesome alien city raid on 14th July which became a part of our celebration video. On July 17th we had hide'n'seek in West Athen followed by a quiz made by Zarvano on 24th July. Then Youny made a great contest where we had to find a very special package before July 31st, and July was ended with a public hide'n'seek where all clanners were invited to join. Then the day was upon us, 1st August when TRB was formed back in 2003. We started the day with a traditional TRB auction held by Zoleem, then we gathered in West Athen outside the cup and prepared for a red parade. With us we had Anlyss from ARK and DJ Sunserro from Gridstream Productions, so thank you very much for being a part of making our birthday epic. We did the traditional walk from WA to OA, and after a pitstop at oa grid we lined up at oa hill. Here we gave away presents (I know it should be the other way around!), we had small competitions, free buffs etc. Then we ended this day with a party on oa hill with DJ Sunserro and everybody else who wanted to join. What a wonderful evening, I think we always will remember it!

Some pictures from the red parade on 1st August can be found here in our gallery section.

Our official celebration is now over, but as I promised earlier we will still add updates to this page as a part of our celebration. One new person is added to our legends page, more will come. History page will also be updated soon, and maybe there will be a new interview ?? Keep checking back for updates! You can still leave us a happy birthday message at our website, it will not be closed before this year is over.

Thank you to everybody in the AO community who managed to join our celebration, you are the best!