Happy New Year!
Details

Created on Friday, 03 January 2014 10:58
Written by Strombanni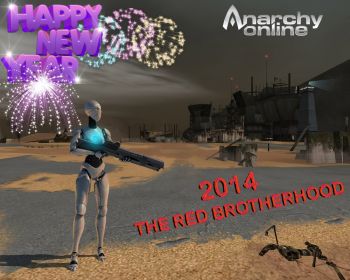 Happy new year on rubi-ka and on earth. Here on earth we are celebrating that we survived 2013 and we hope we'll survive another year! Hope is a strong word, and there is still hope. Also on rubi-ka. Quite a few of us are now taking a break on earth, but I know most of us really wish to return to rubi-ka. Even if we disagree with some of the changes that has been done, we still love rubi-ka and we're just waiting for an excuse to return. We all know that travelling between rubi-ka and earth is expensive, so we do have to finish business on earth before we start the trip. Meanwhile we are getting updates from rubi-ka and we are very curious about the new engine which is in beta now. Hopefully this will be a change that will bring full shuttles to rubi-ka during this year. Hope.

Having said that, we still have quite a few people left on rubi-ka who continues the fight. While Fixminx is away on business, Sherron has taken the leadership. On behalf of The Red Brotherhood, thank you Fixminx for investing time in us and we hope to see you back soon, and thank you Sherron for taking the responsibility to lead our TRB into 2014! It's much appreciated! This is a very important period and we need to stay active, so also a big thank you to all members who's currently fighting for The Red Brotherhood as I'm speaking. This year will be very interesting, I'm both nervous and excited actually. I do hope to return, let it be sooner than later!

To the AO community and everybody on rubi-ka : Happy new year, and may all your dreams come true!